Back To A Risk-On Future… Again?
It was risk-off late last week, but today's bounce in US stocks has the bulls cheering once more. The S&P 500 closed up 2.0% on Wed., Sep. 9. Although the gain was well below the high point of the day, it was strong enough to inspire forecasts that last week's slide was one more temporary detour on the road to ever higher prices.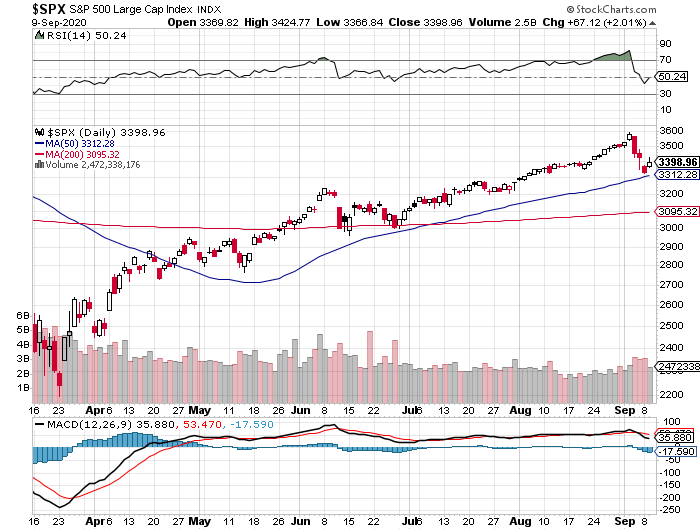 Perhaps, but after a stellar bull run, a market that's only modestly below a record high and a truckload of risk factors bubbling in the background the case for caution hasn't worn out its welcome just yet.
Here at The ETF Portfolio Strategist the main question is whether our proprietary strategies will hold on to strong year-to-date gains? Recent history has taken a bite out of results, although two of the three strategies continue to post premiums over the benchmark – the Global Market Index, an unmanaged portfolio that holds all the major asset classes (except cash) in market-value weights via ETF proxies.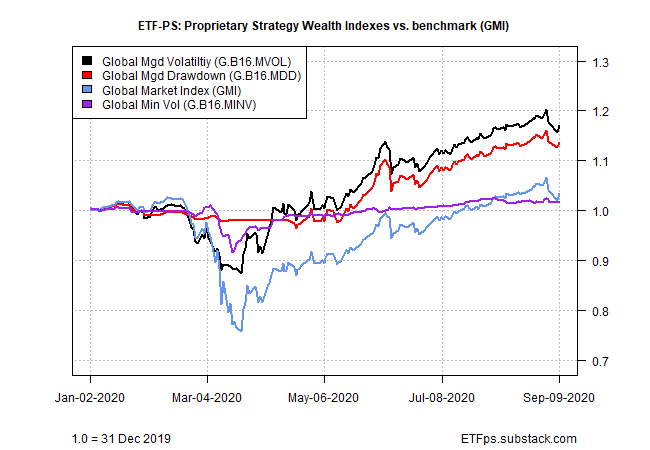 Global Managed Volatility (G.B16.MVOL) remains the leader at the moment with a 17.1% total return for 2020 through today's close (Sep. 9). Perhaps that's befitting a strategy that remains risk-on across the board for its fund holdings. (For details on strategy rules, see this summary.)

Global Managed Drawdown (G.B16.MDD) is also posting a solid gain this year, although three of its funds are currently in a risk-off posture (as noted on Friday). Perhaps not surprisingly, G.B16.MDD's 13.6% year-to-date rise trails G.B16.MVOL's results.
Global Minimum Volatility (G.B16.MINV) is the weakest of our three proprietary strategies via a slight 1.7% increase this year. That's softer than expected, although the strategy's goal is smoothing out the bumps.
Note that all three of the strategies (along with GMI) target the same opportunity set of 16 funds that cover the major asset classes on a global basis. The only difference is how the 16 funds are managed.
At the end of this week it's time for a fresh risk profile and so it'll be interesting to see if G.B16.MDD's gradually rising risk-off posture continues or reverses. The related question: Will G.B16.MVOL's full-bore risk-on allocations survive the rest of the week's trading action? ■