The ETF Portfolio Strategist: 25 September 2020
Waiting, Watching, Wondering: Maybe it's the nation's rising anxiety over the November election. Or worries that the economic rebound is slipping. Whatever the reason, the week that just in ended dispatched losses far and wide.
US equities rallied on Thursday and Friday but it wasn't enough to unleash the market's fourth straight weekly decline. Vanguard Total US Stock Market (VTI) stumbled 1.4% for the trading week through Sep. 25—the first four-week run of red ink in a year.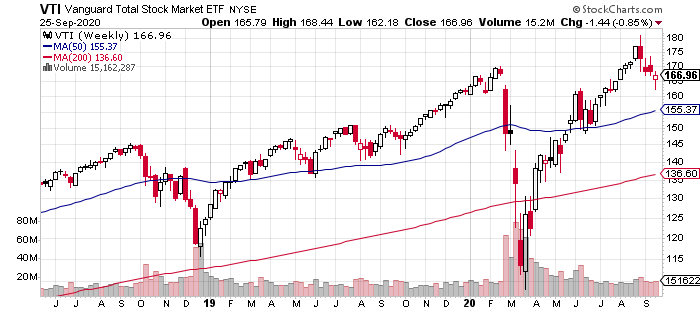 Bonds were no help. US corporates slumped 1.5% (LQD) while Treasuries barely budged, end with a 0.3% uptick for the week.
US real estate investment trusts (VNQ) gapped down 2.3% this week and foreign property shares (VNQI) suffered even more.
There was no place to hide in broadly defined commodities either. The WisdomTree Continuous Commodity Index Fund (GCC) — which holds a broad, equal-weighted basket of commodities — reversed 3.4% after reaching a seven-month high in the previous week.
What about foreign stocks and bonds? Don't ask – it was a wash-out on those fronts, too.
Down With Portfolios: Given the bearish tailwind this week in most corners of global financial markets, all the usual suspects that we track for portfolios took a hit. Let's start with the benchmarks. (For details on the strategy rules for the proprietary and benchmark portfolios, along with information on the risk and return metrics in the tables below, see this summary.)
The softest loss: a 0.6% drop for the week for the US 60/40 stock/bond mix (US.60.40). Global diversification didn't help this week, as deeper losses in the broader-minded benchmarks remind. Global Beta 16 (G.B16) took the biggest hit, tumbling 1.9% for the week.
BlackRock's asset allocation funds also retreated this week, ranging from a 0.8% setback to a 1.6% drop.

For our proprietary strategies, this year's high-flying Global Managed Volatility (G.B16.MVOL) endured a bit of comeuppance in the form of a relatively steep 2.1% slide for the week. The strategy is still up a strong 14.2% for the year to date, but its across-the-board risk-on profile is starting to pinch.

Meanwhile, Global Managed Drawdown (G.B16.MDD) went nearly all in with risk-off at the close of this week's trading. The strategy in recent weeks had been gradually going to cash in its risk buckets and the trend accelerated today: 14 of the 16 fund buckets are now risk-off.

The one outlier: iShares 7-10 Treasury Bond (IEF). Suffering a bout of noise after six weeks of risk-off, the fund shifted back to risk-on at today's close. ■